A Stylish and Traditional Interior
Over the years I have helped my friend with various updates to her stylish traditional home in the Queen Anne neighborhood in Seattle. Unfortunately she is getting ready to downsize and say good-bye to this timeless treasure. I felt privileged to capture a few photos of the interior before the Real Estate agents list it for sale. It is such a stunning and tasteful home and my friend, Caryn, has that subtle talent that turns all she touches into exquisite elegance.
Using authentic materials and the highest quality fabrication, the end result exudes character, is unique and personal. Here are a few photos to enjoy.
The Living Room
I believe the first project I helped Caryn with was the purchase of this classic Stark Antelope area rug for her bedroom. After she added an en-suite Primary Bathroom, it was moved to the Living Room and replaced the original sisal rug. Are you feeling the animal magnetism? It looks fantastic, don't you agree?
The Dining Room
The vintage chandelier is perhaps my favorite item in the home. Can you believe the real estate stagers are suggesting that it be replaced with something more modern??
Just as I was writing this post the real estate photos were published. Here is a lovely photo of the Dining Room. Thank goodness the chandelier is still intact!
The Kitchen
Several years ago we gave the kitchen a cosmetic face lift:
Painted the Cabinets
Replaced the Tile with Soapstone Counter-tops
Updated the Sinks and Faucets
Installed Marble Backsplash Tile
Improved the Lighting
Replaced the hardware
I thought you might like to see a photo of the kitchen before the update. And you can see more Before and After Solutions here.
Pretty Details throughout the Home
A love for Blue, White and Whimsy is apparent through out the home. Here are just a few of the details that tie it all together.
Perhaps my favorite surprise is the towel holder in the Powder Room!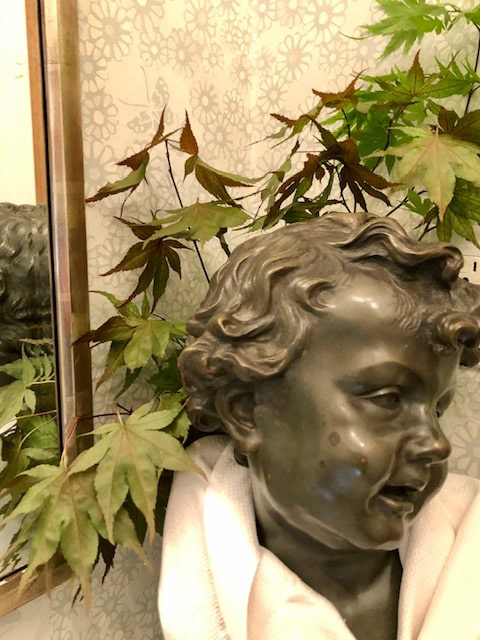 Classy Comfort
The lower level boasts an area for an office and a sectional for watching the big screen TV. There is also a "decorated" laundry room. Even while doing chores, the detailed shelves are personalized for enjoyment.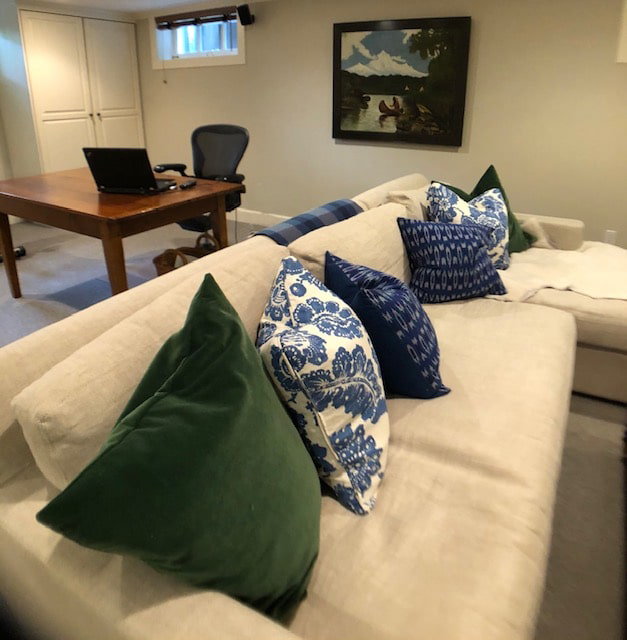 I will miss our gatherings at this home, but look forward to helping with the next residence. I think you can agree that this is a fun and beautifully decorated home I am happy to share with my readers. And as I write this it has just gone on the market. Let me know if you might be interested and want to know more details!