Seasonal Living Virtual Designer Showhouse!
Please join me at the opening of the Seasonal Living Virtual Designer Showhouse— the first ever 3D walk-around and shoppable Luxury Designer Showhouse built entirely in the virtual world!
I am so excited to share this news with all my followers. Here is a sneak peak at what you can expect:
I can't wait to attend. And you can too! Debuting on Dec. 3rd, 2020 at 6 pm ET, during a professionally produced live VIP Special Event, anyone who would like to see the Showhouse first can register to attend the VIP Launch Event which is on this link: http://bit.ly/DesignerShowhouse. And do you know what the best part is? It is absolutely FREE!
Design Inspiration Galore!
The brilliantly designed rooms have been designed by 11 nationally known Interior Designers.  Because the luxury Designer Showhouse is virtual and the designers have not been constrained by budget, they have had complete creative freedom to implement their designs. As a result, the Virtual Designer Showhouse contains hundreds of inspiring and beautiful new ideas. Many of the rooms in the Showhouse are multi-functional dictated by the way families want to live now. For instance, the kitchen, with its 3 story live food solarium, will showcase how growing your own food – indoors – is possible. One day I would like to join these influencers in a similar project. Being the first of its kind, it is bound to be imitated. But you can be the first to experience this fabulous and innovative response to changing our ways of doing business within the pandemic environment.
Virtual Reality Experience
The Showhouse has been rendered using state of the art technology to allow for a lifelike 3D walk around experience using a computer mouse. With product discovery and augmented reality highlights  incorporated into each room, consumers can try out some of the featured products in their own homes. This sounds fun.
Some of my Favorite Sponsors
Signature Kitchen Suite Appliances is one of the sponsors on the list whose products I love, especially after visiting their showroom in Napa. We were able to experience the newest innovations and I have since specified their products in several of my kitchen designs. Showcased in the kitchen and elsewhere in the house, I can't wait to see what the designers of those spaces will be doing!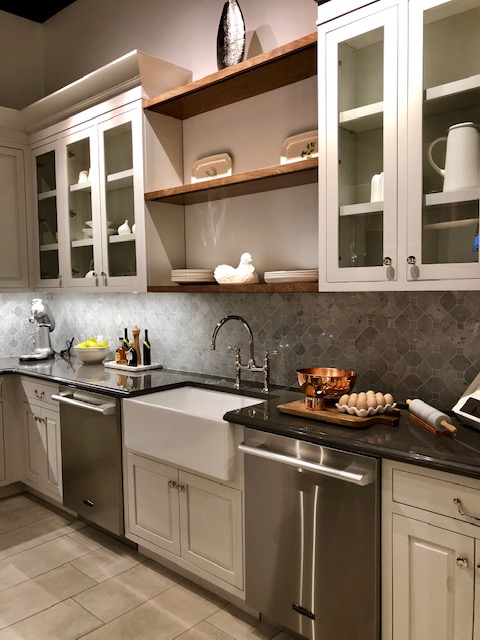 Ever since I visited their quarry and factory in Spain, Cosentino is another favorite of mine, especially the absolutely stunning Dekton designs. I know that one of the Designers, Carla Aston has used the Laurent product in several of her living room pieces.
One of my favorite lighting sources is showcased as well. I love a statement chandelier and the Minka Group has some of the prettiest from which to choose. As a sponsor, we can expect some exceptional lighting designs!
Dear to my Heart
As you might know, I am always interested in promoting environmentally friendly design when at all possible. Focused around wellness and sustainability, inspirational designs will highlight ideas for everyone around the globe to enjoy and explore from the safety and comfort of their homes. Seasonal Living is known for its innovative use of sustainable materials in the production of their furniture as well as for supporting factories around the world that have been involved in small batch artisanal production for generations.
Be Ready to have Fun!
Luann Nigara, host of America's #1 rated podcast for interior designers, A Well Designed Business, will be hosting the event! I had the pleasure of meeting Luann at KBIS 2020 and she is Superwoman! So bring your cocktails to celebrate as the industry and consumers alike, worldwide, gather together to get a first glimpse!
Afterwards, you will be able to tour the Virtual Showhouse at your leisure, in the Special SHOWHOUSE Edition of Seasonal Living Magazine.
When you're touring, you'll be able to zoom in, zoom out and have a 360 walkaround experience, all with your computer's mouse. How fun is that? You'll also be able to click on each product the designers have used in their rooms to get more information.
AND… 50 of the products will be highlighted with an augmented reality feature…you will actually be able to see them in your own homes! Want to learn more about the backstory? My friend Leslie Carothers of Savour Partnership has written an article about her involvement and how the Designers were chosen. Read all about it here Seasonal Living Virtual Designer Showhouse-the BackStory
Please Join Me
Sound intriguing? You can register here and remember it is a complimentary tour!  I am excited to meet the designers and see what they have created! Afterwards we can talk all about it! Will you be joining me?