Does size matter? That depends, right? Want to see a tiny bathroom transformed into an efficient, luxurious huge-feeling experience with no change in the footprint? ….Well, if not huuuge then at least a lot bigger? Just this week, I was able to take pictures of a small bathroom renovation just completed. The before photos show just how much a renovation was needed. Knotty pine paneling and as older style tub enclosure dated the small bathroom. Not to mention the pretty pink fixtures. The homeowner presented me with a few of his ideas and his three objectives:
I'll try to capture the essence of the renovation with Before Photos and After Photos:
Save
Unfortunately my photography skills are amateur at best. And bathrooms are so difficult to capture! But maximizing this tiny bathroom and making it more spacious is exactly what we achieved.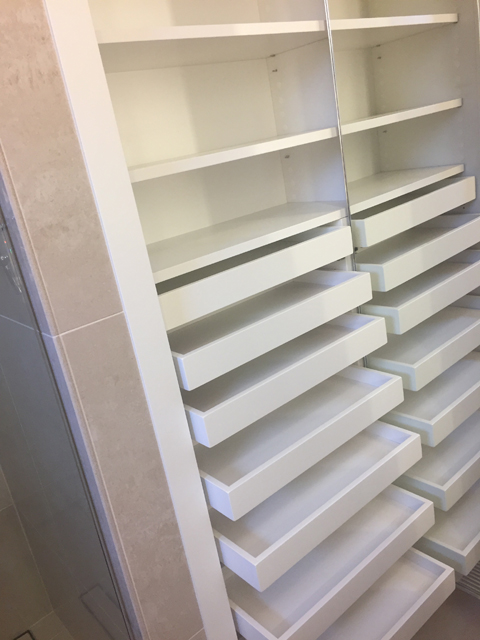 We removed the rarely used (pink!) tub. Installing a wall mounted space-saving bidet is convenient to clean! And the vanity was wall mounted as well to maximize space. A floating seat in the shower provides convenience and comfort. The larger format tile is installed floor to ceiling which creates a visual feeling of a much larger room. All 3 objectives accomplished for a very happy homeowner who was very involved in all of the decisions! 1. Classy: Use of sophisticated timeless materials with clean lines. Monochromatic color scheme. 2. Uncluttered: We haven't accessorized yet but with the new shelving, all of the grooming items have a place. Borrowing some space from an adjacent hallway closet allowed for roll out shelves which will store smaller items behind a mirrored bi-fold door. There are open slots for towels above. 3. Making bathrooms "bigger" is my business! I can help maximize your tiny bathroom… without moving a wall!