Blend in the Bling! – the Necessary Design Element
Blend in the Bling for better decor. Bling is the secret sauce to fine design. It may be subtle and not readily noticeable. Or it can be loud and shouting for your attention. But Bling is that element not defined in the Principles of Design we are taught in school.  Bling is the reason you might finally hire a designer. It's that something special you cannot put your finger on that captures your heart in someone's home. It's that certain je ne sais quoi. And you want to achieve it in your own home.
Some homeowners try too hard to incorporate Bling. You know those spaces where every surface has a chotchka or trendy faux flower arrangement or the walls are repeatedly reminding you with positive thoughts. Yes I absolutely believe home is where the heart is. But I only need to be reminded so many times and not literally spelled out in every single room.
The right amount of Bling blending is truly necessary! Pops of an accent color, a cherished collectible or vignette that tells a personal story, an unexpected vintage item in a modern setting, an avant garde painting in a historic home….a little riskiness or what I call funky in small doses provides the character defining good design.
Bling is not easy to Define
I'm going to give some fun examples to help you blend in the bling. Bling doesn't have to be bright and shiny. It doesn't have to be sparkly or glittery. This is the hard part to define. It can be a collection of books that if stacked just so provide a little height and scale to a coffee table or nightstand. You've even seen books on the floor that can provide that elusive thought in your mind: so why aren't they in a bookcase?  And then you think it looks just fine and adds just a touch of intellectual surprise.  Blend in bling with a quirky surprise and it can be memorable.  A bookshelf holding not just books but personal objects displayed in such a way it invites your guests to inquire about the collection…or just gives you that sense of satisfaction.
Try Quirky and Unexpected
I had an friend comment on the oversized antique mirror in my guest room. They asked if I needed help hanging it on the wall! No, I love it on the floor…a random placement not to mention extremely useful to view oneself and I most likely will never hang it.
If you don't have an architecturally abundant space, consider a large item like the mirror below (not hung I might add) to give you that instant Bling.
Mix and Match
Blending in Bling can be achieved with mixing a combination of textures. It can be introduced in layered floor coverings, area rugs, pillows, throws , Wall-coverings, 3D art and bedding.
Don't forget how lovely dishes and glassware, silverware, mismatched china and fresh flowers in a themed table setting can easily blend in the Bling.
Blend in the Bling with your hardware. Door knobs, pulls, and handles and drapery hardware in the right finish combinations can provide a svelte sophisticated cohesiveness to a space.
Plumbing fixtures, faucets and trim, towel bars, sinks and even toilets can all add to a beautiful Blingy bathroom!
Properly placed plants with interesting foliage or containers can add a great interest to a room. Want some suggestions for easy to grow plants? Read more here.
Lighting may be the easiest way to Blend in the Bling
Bling most definitely is the quality of your lighting. With so many light fixtures from which to choose make this an especially exciting area to enhance the panache in a home. Chandeliers, pendants and sconces are some of my favorite items to help a client select.  You can put the fun in functional with LED lights up and under cabinets, toe kicks, shelving, vanities and even beds and furniture. Just remember the correct color temperature is all important.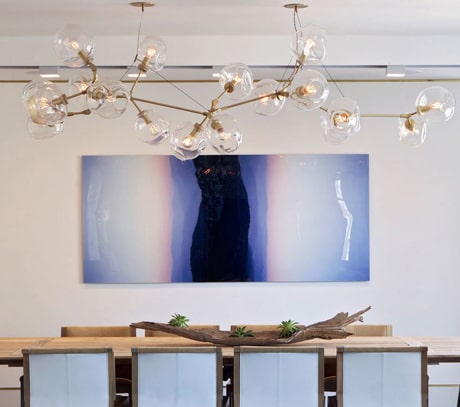 Artwork is one of the most important aspects of successful Bling in a home. Its scale, color, subject matter, framing style, perspective and  proportion, and its meaning to you provide the personal panache that authenticates your style.
Proper placement is perhaps the single most important aspect in the success of the impact the art has in your home.
Display your Cherished Items
Shelving and Etageres and Mantles are a great opportunity to personalize and display a collection or mementos from your travels.
Ready to add some Bling to your home? It doesn't necessarily require to go out shopping and buy anything new. Start with what you already have. Look at it with new eyes. Edit and rearrange a few things and then you will be able to assess more easily what is missing. As always, I am ever so happy to help you.
Have fun. You want your home to be blissfully Blingy!