Ready for Simple Holiday Decorating Trends?
DIY Simple Holiday Decorating Trends for 2023! Easy with the emphasis on Simple Decorating has been appealing to me lately.   Our tradition is to get the tree the day after Thanksgiving. It used to be cutting it down at a tree farm in the Cascades, and yesterday we did just that!  It was the most difficult part of the decorating process. Before sharing simple decorating trends, here are some photos captured from the fun day!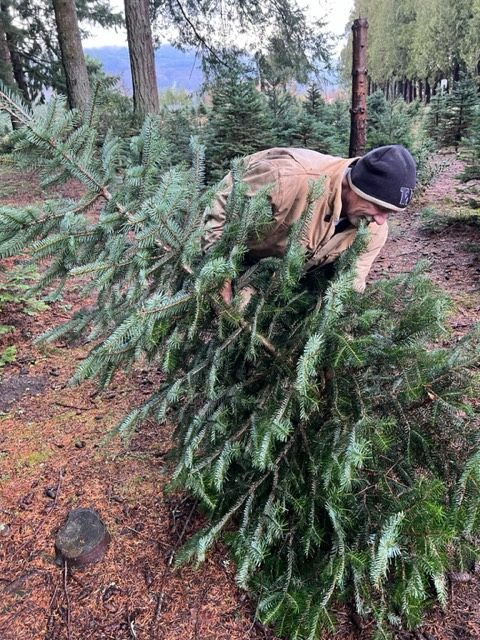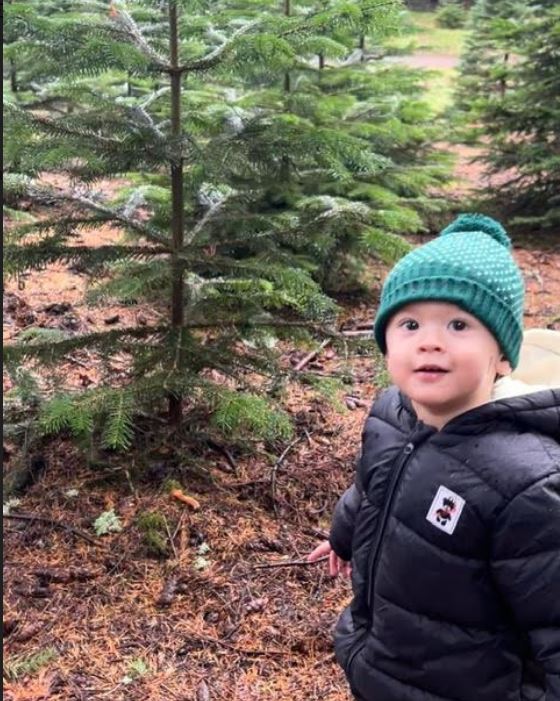 Sadly we lost our beloved dog, Bentley, shown in the first photo. But we still have Coco Chanel and Monte to keep us entertained, especially in the woods!
I love to be in the know and "on trend" and festive.  But as I am hauling out less and less of our collected assortment of all kinds of nostalgic decor, I plan to keep my decorating less fussy and more organic.
This year I am absolutely attracted to DIY Simple Holiday Decorating ideas.  I wasn't trying to find DIY ideas but that is what has been appealing to me. Simple and easy. And I might mention that most are truly budget friendly. Stay tuned for the reveal of our (almost) finished Christmas tree.
Less is More
Let's begin by getting rid of all the brown, rusty, fall, Halloween, pumpkin and gourd style decor. Now that the Christmas season is officially here, let's get a fresh start. It's time for pine cones, evergreen, holly and red berries. Here are some of my favorite finds and ideas. Popular in the South which I have done for years is a glass vase full of fresh fruit. Layer in-season citrus like tangerines and oranges, lemons, and apples and cranberries and a few sprigs of greenery and voila! And it smells heavenly.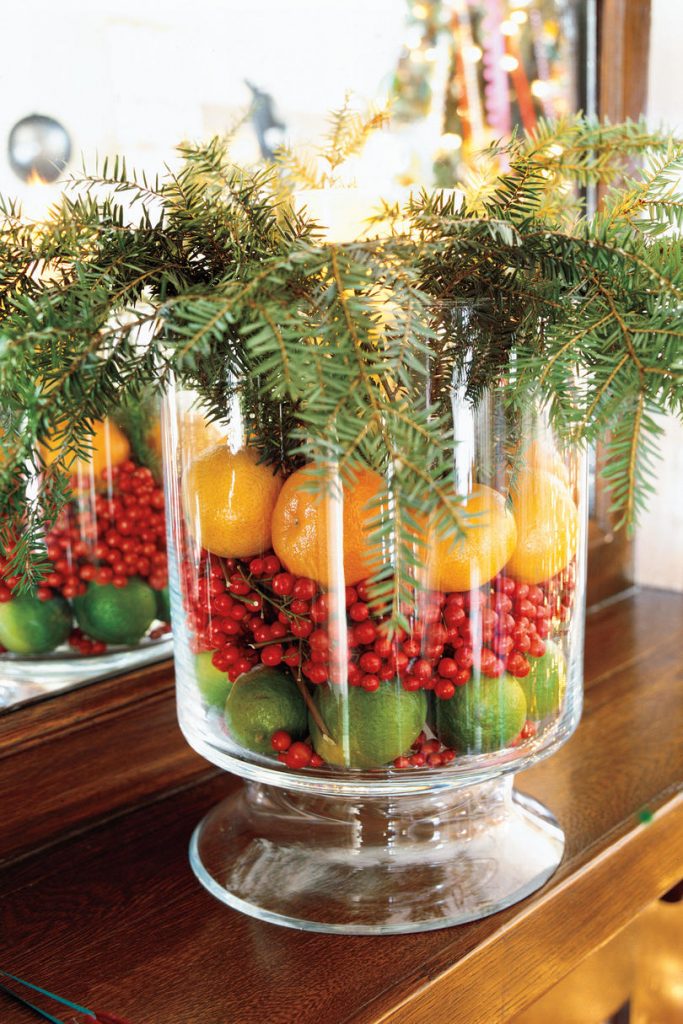 Another absolutely easy centerpiece uses fresh greenery and fruit interspersed with pillar candles. I love to pick up the fallen branches from a windstorm typical this time of year in my nearby Lincoln Park. Think of using fragrant eucalyptus, holly and pine cones. So pretty!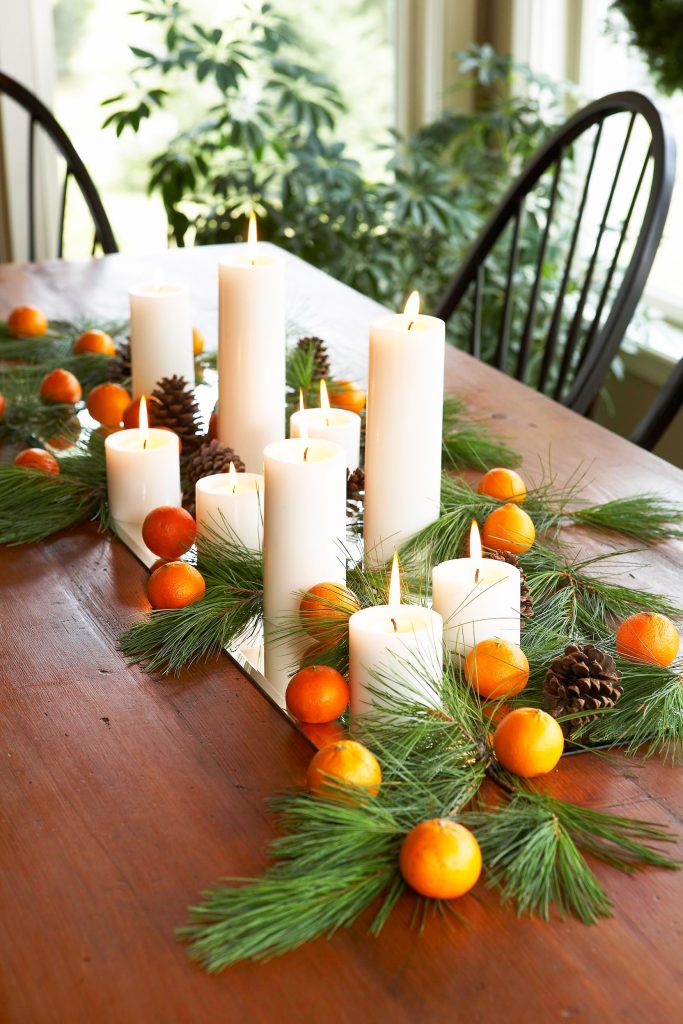 Natural Elements
Having picked up those fallen evergreen branches I also look for interesting limbs needing to be trimmed. So many ideas can be crafted from these such as hanging ornaments, ribbon, and positioning where you might desire intrigue. From a window, a ceiling or over a dining table or console tablescape, my friend is invisible fishing line or twine for an organic look. You can use any of your favorite ornaments to develop the theme of your choice. Your all important individual style can so easily be expressed!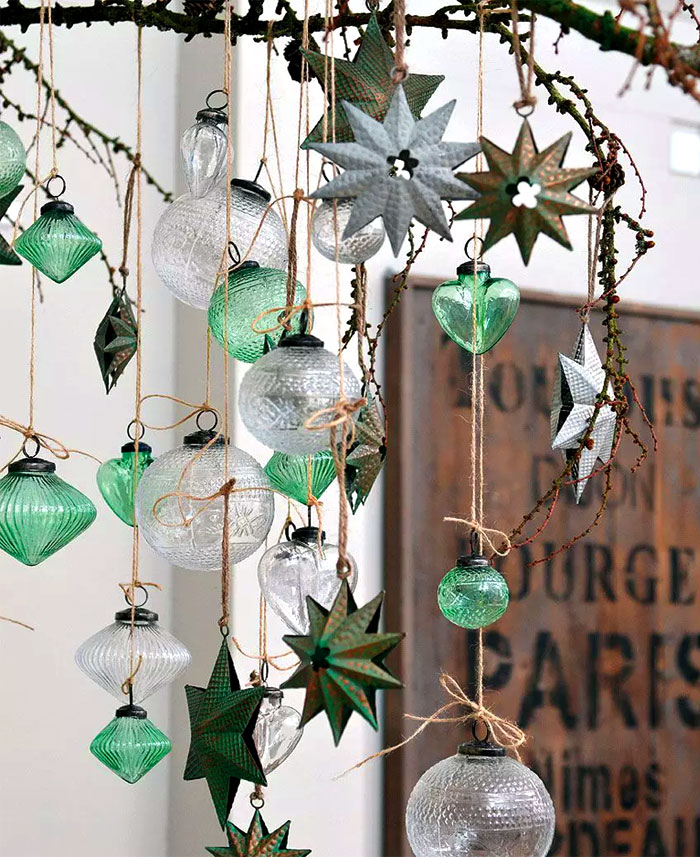 Farmhouse Chic
The Modern Farmhouse Trend is still going strong in 2023. A great segway into this craze is preppy plaids and buffalo check incorporated into the decor. Ribbons, blankets, pillows and even shower curtains for the holiday are all welcome!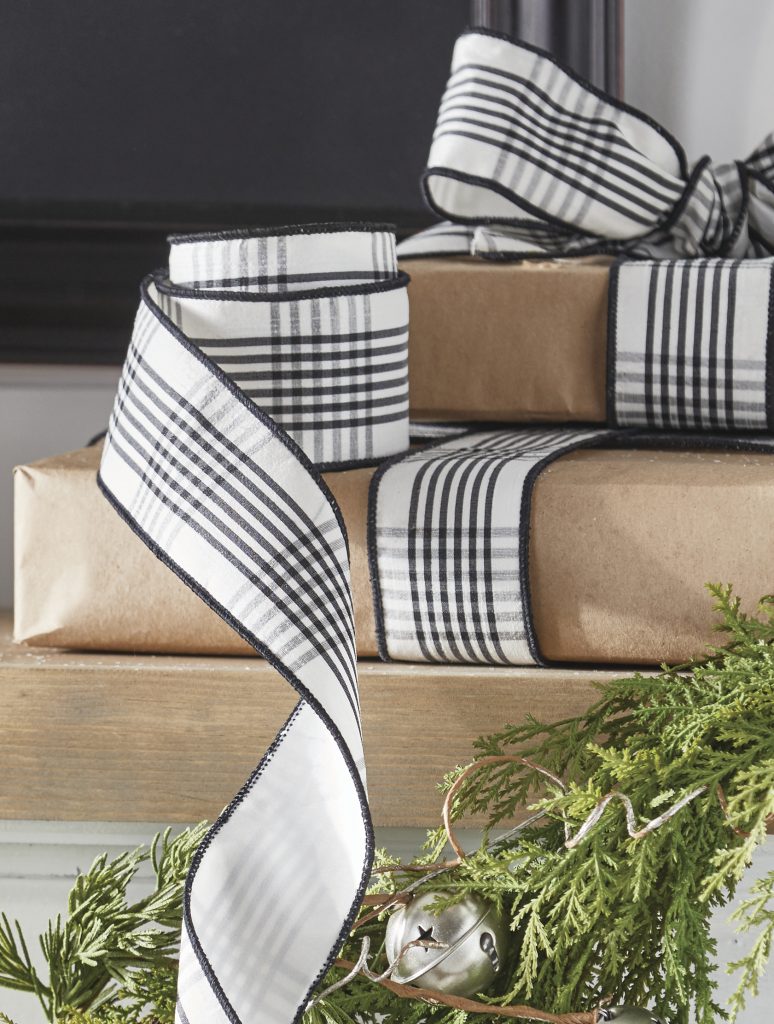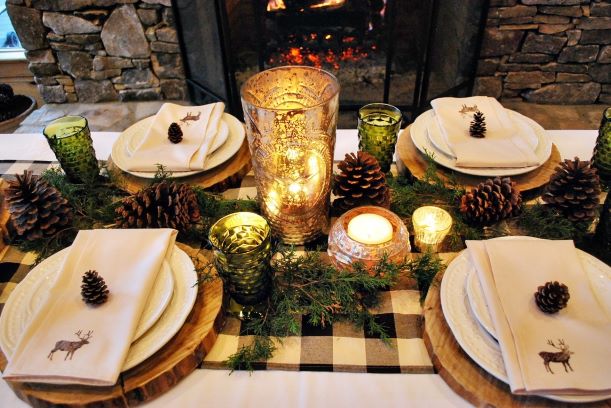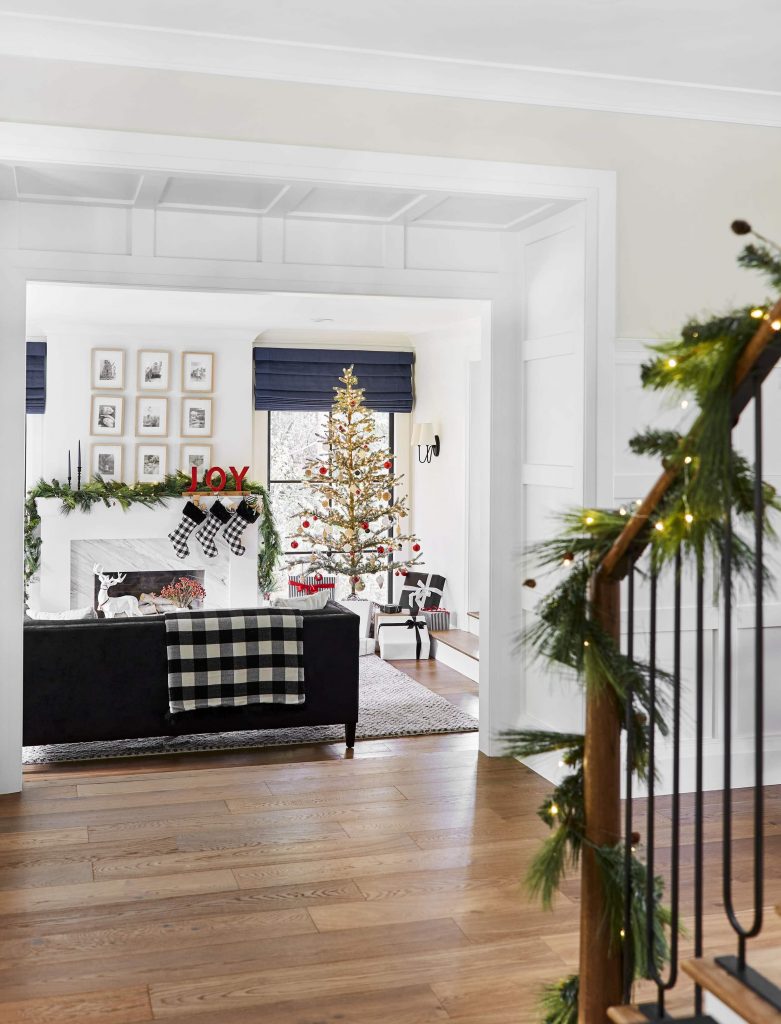 Try using pruned tree limbs on the wall and adding ornaments for this organic and simple idea.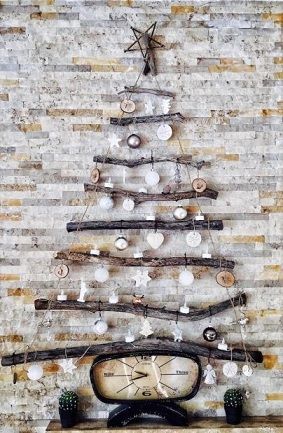 Don't Buy New…Just Yet
Discover a new use for what you already own….before you buy new….imagine the possibilities for that seldom used bucket or bowl, or various shaped candles and votives.   Instead of scattering all your sentimental items, group like items, such as all your silver ornaments or containers, to make a majestic statement.  Add some fresh greenery and your favorite holiday color accents. Any surface will do. Consider adding a string of twinkle lights…you know you can never have too many white twinkle lights…to any and all vignettes in your home for the holidays.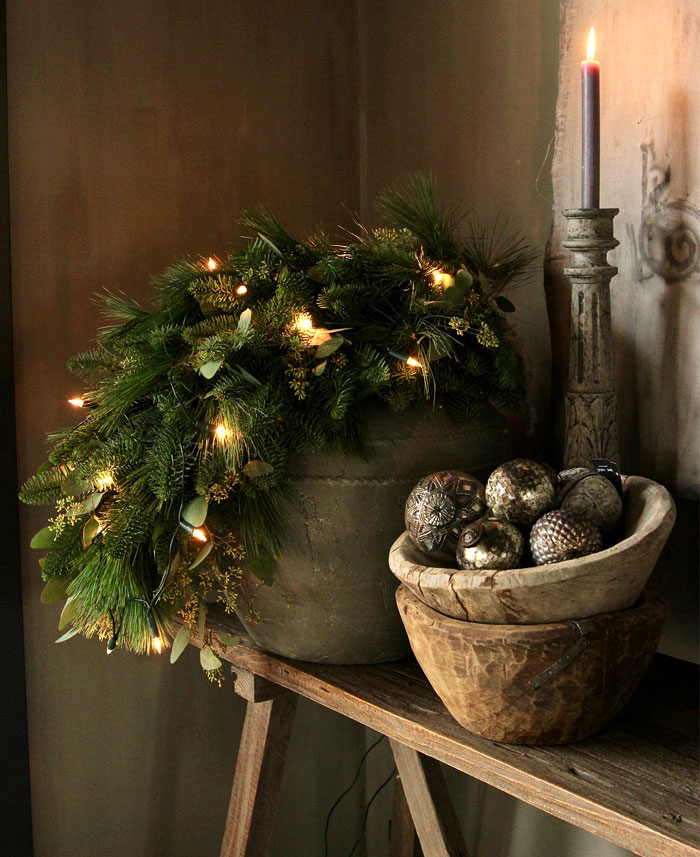 Add Natural Greenery!
Some of the simplest, least expensive, but most festive ideas are to just add natural greenery to your place settings, your vignettes, window sills, mantel.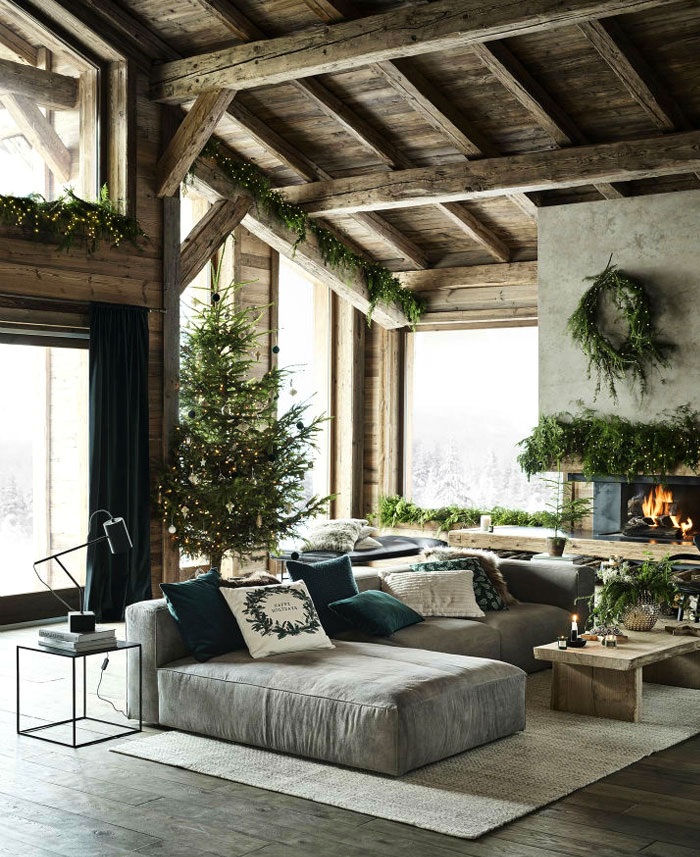 Garlands around doorways and staircases are pretty popular standards because they absolutely make a beautiful seasonal statement of beauty. They do not even need to be elaborate. While I love lighting them up and adding a few adornments, it is not necessary. You can see in this rendition there is little embellishment and the effect is fantastic.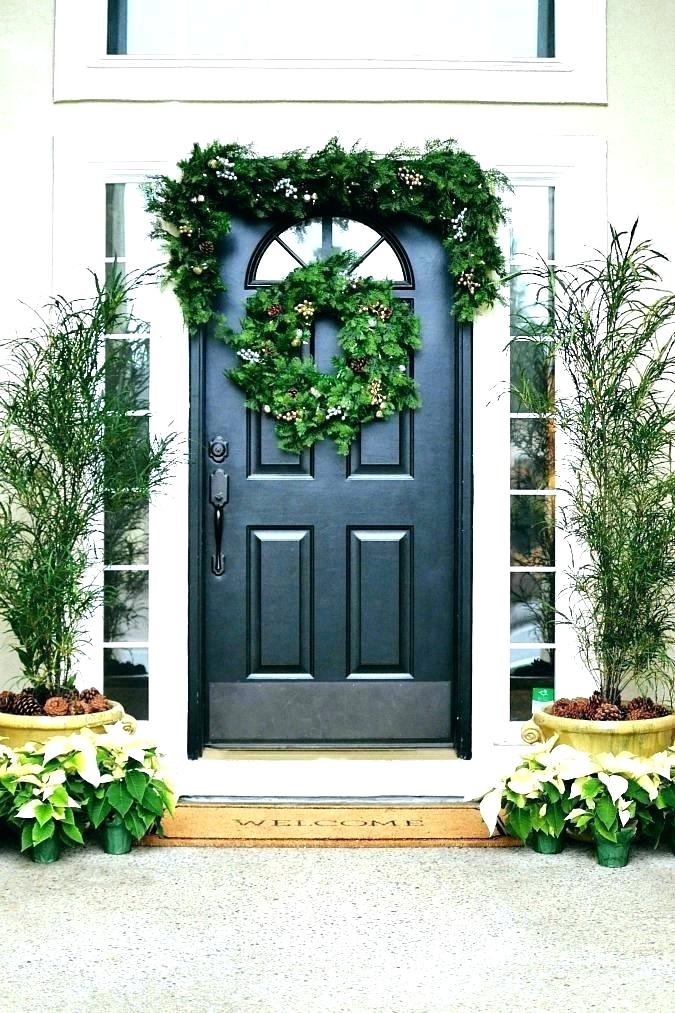 More DIY simple holiday decorating trends include napkin rings made of natural evergreen ( these are faux from Target but you can make your own easily) or a welcome sprig on the place setting. I like to use a festive ribbon to tie a bow to secure.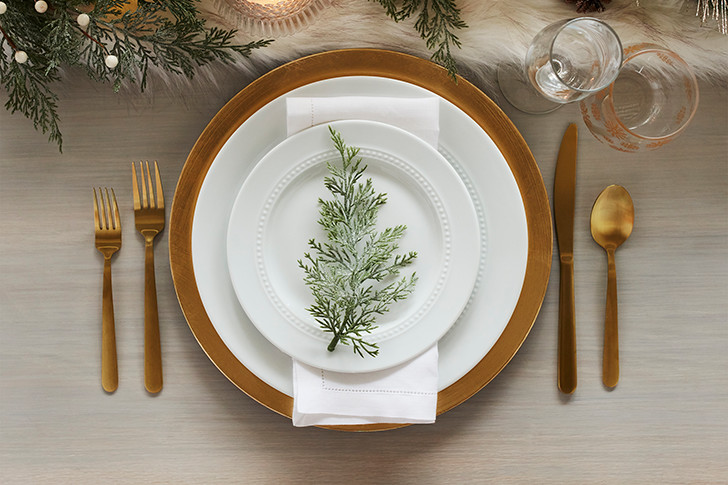 The Monochromatic Trend
This trend is not just 2023. Have you noticed that the ideas presented here are not that colorful? One color or a combination of neutrals in different values are fairly predominant. Nostalgic themes will never go out of style and I am guilty of hanging every memorable ornament on my tree no matter what the color. To create a more formal or sophisticated "statement" try using only one hue. Want to express yourself in a dramatic or theatrical sense? A monochromatic theme is individualistic and impressive and can be absolutely stunning. Some of my favorites are shown here.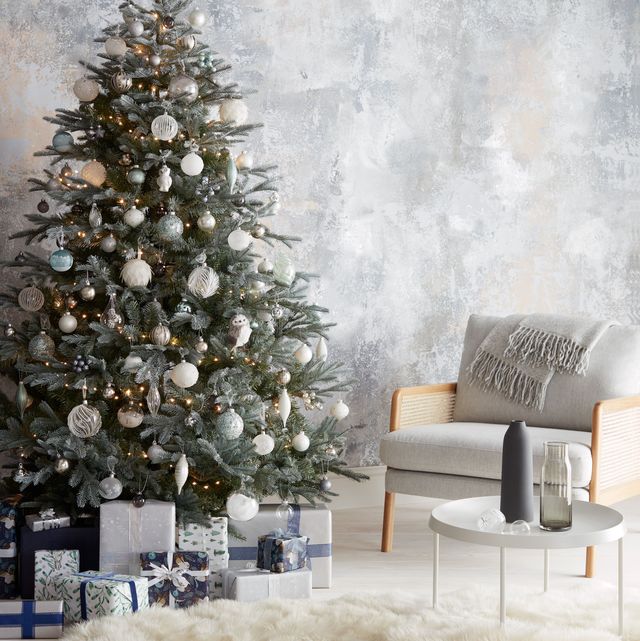 Hanukkah decor can easily be incorporated in a monochromatic theme with simple ornaments interspersed in a garland. A statement piece of favorite art sets the stage.
Notice how a little Red goes a long way in the refined Farmhouse theme below.
The Biophilia Design Trend
The idea is to cozy up the winter season, bring the light inside, and embrace hygge (see my former post here ). The Biophilia trend is here to stay and will grow as we have a natural attraction to nature.   I plan to write more about my studies in this area soon. The "biophilia effect" describes a number of positive impacts experienced when this affinity is evoked through a sensory experience of nature: sight, sound, smell, or feel. Candlelight, favorite scents, cozy tactile throws and pillows all contribute to a sense of well-being, comfort and joy.
I hope you have enjoyed some of the ideas I've shared which tend towards an attraction to simplicity and nature. In closing, I share a photo of my almost finished tree and of my own entry to my home from last year. Simple! I can't wait for next week to start my decorating! Happiest Holidays from our home to yours!