One of my New Year resolutions is to share more of my design work with my readers. This year has been full of refreshments including my bedroom refresh. My husband has had three surgeries to correct his "post-basketball playing days pains"…one ankle fusion and two knee replacements. We've had a twin bed in the living room for most of the year so he could avoid the stairs. Consequently our Christmas decorations were simple as carrying up the boxes of decor by myself was not at all appealing. As the holidays are winding down, I will share my retreat upstairs that I've had to myself for awhile. I was able to re-carpet, repaint and replace some of the bedding and reorganize. It's been refreshing!
The carpet was as old as the remodel which was 25 years ago. Replacing it and painting the walls was the biggest improvement. I tinkered with several shades of white and now we have a new Sherwin Williams custom color named "Wright White"!
While looking at the photos, they don't seem all that different. However, the little details have made such a tremendous distinction in ambience and organization. When we moved my Mother last month, I inherited the marble table and the vintage lamp and it serves as a beautiful vanity. I get to look out to the Puget Sound as I put on my face each morning.
Perfectly Imperfect
You know when you start redecorating and everything else starts looking awful? As you can see the painted floor I did years ago is chipped. That will probably be "refreshed" someday. We all have favorite items that are irreplaceable. So I firmly embrace the notion Not Shabby but Chic! My collection of Eiffel Towers and hearts were gifted to me and define many moments I choose to cherish with my friends and family. Each has a memory and I am not one to get rid of things too easily. Consequently things tend to look worn before I am ready to replace. Incidentally you probably know that Wabi-Sabi is a hot trend: Philosophy for an Imperfect Life.
C'est La Vie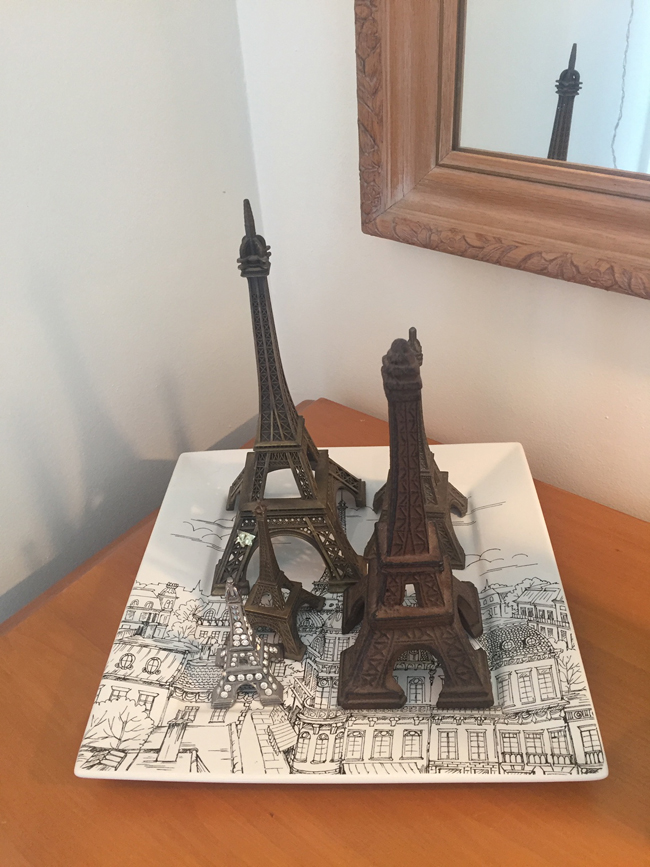 I succumbed to the animal craze trend. I had to retire my old Zebra print shams so the alternative of a little fur works well!
This little watercolor has a place of importance beside the skirted side table. You can see more of Pat's art on his webpage.
Finally, I installed the tall sheer draperies to filter the afternoon heat in the summer. (We don't have air conditioning in our 100 year old house). Consequently, I love the way they flow in the breeze and frame the view.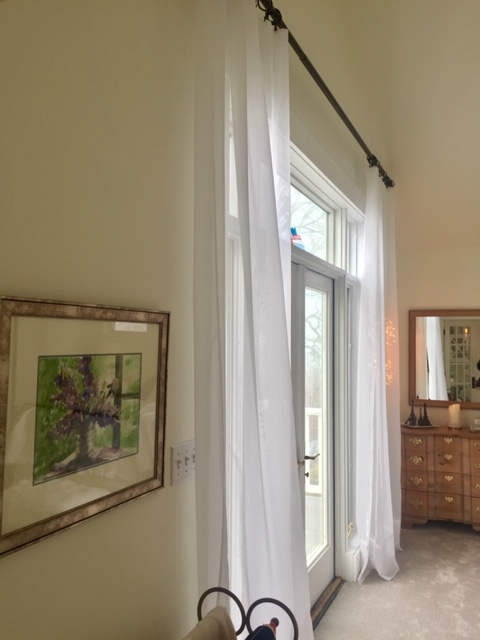 Belle vue…here is one of the sunset from my little pied-a-terre.. ..once again referencing my affinity for all things French!
As we bid adieu to the holidays, a snapshot of my front door. I actually love the simplicity of our decorations this year and may never again bring all the ornaments upstairs!
I hope that your holidays were filled with love and wish you a Happy New Year!
In conclusion, I hope you enjoyed the little tour. What have you refreshed lately or what are you planning to refresh next year?