Don't want to spend a lot of money to get a luxurious and rich looking kitchen? Here are 5 cheap and easy ideas to make it happen before the holidays.
#1 Paint your walls a lighter color.
This will be especially effective if your cabinets are dark. Better yet, paint your old cabinets. A light color on walls and cabinets brightens and enlarges and larger looks luxurious. A fresh coat of paint hides dents, scratches, smudges and a multitude of sins…
#2 Replace the hardware.
Find new or vintage knobs to add instant personality to ho-hum cabinetry. I love to peruse second use stores in every city to find inexpensive but fabulous hardware.
#3 Update the lighting.
Install under counter lighting. This brightens and illuminates the workspace not to mention adding that all important ambient glow. An especially unique pendant can create the ultimate focal point. An accent lamp on the counter is one of my favorite ways to add personality and subtle brilliance to a dark corner.
#4 Hide all the clutter.
Clear off all the counters. Now replace only the items which necessitate the cooking process on a daily basis. View your space through the eyes of a magazine editor or a photographer. Voilá !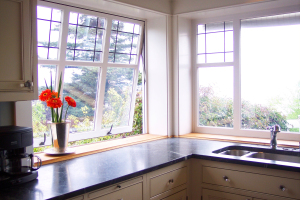 #5 Add an herb garden, plants or flowers.
You've heard the term Green Goddess? Greenery in a kitchen window speaks haute cuisine. Fresh never faux. Make sure the pots are pretty.
I'd love to hear what works for you!